Dr. Tom Balshi, a Diplomate of the American Board of Prosthodontics since 1976 presented a lecture entitled "The Zygomatic or Pterygoid Implant: Guided and Unguided Strategies" at the annual scientific session of the American College of Prosthodontists in Baltimore, Maryland. Dr. Balshi presented his findings in successfully treating patients having extreme upper arch bone loss with a sound non-removable prosthesis using the Teeth in a Day protocol.  The procedure, which is patient friendly, eliminates more invasive bone grafting and allows for a rapid treatment option.
Featured Image Caption: Dr. Thomas Balshi stands with Dr. Rob Slauch in front of their poster presentation
The Pi Dental Center was represented at the 42nd annual session of the American College of Prosthodontists in other ways.  Former Pi research intern and current dental student at the University of Maryland, Mr. Rob Slauch competed in the poster presentations, examining mechanical and biomedical complications of temporary prostheses using the All-on-4 dental implant protocol. The poster research was a collaboration of Drs. Balshi and Wolfinger, Stephen Balshi, the director of Research for the Pi Dental Center, and Mr. Slauch.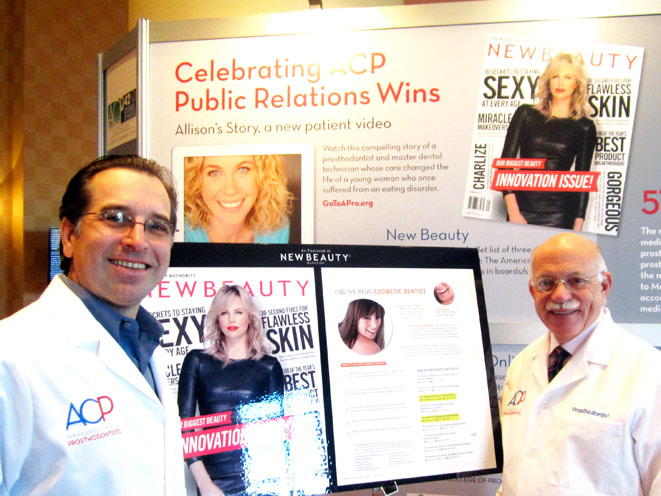 New Beauty Magazine, a Sandow Publication, was showcased in the Exhibit Hall. The Magazine, devoted to healthy beauty innovations, has a single philosophy: Always Exceed Expectations. Dr. Balshi, who serves on the magazine's editorial advisory board, believes that the specialty of Prosthodontics holds the keys to providing the most innovative, healthy and esthetic smiles.
Pi Dental Center is a specialty practice committed to providing our dental patients with the highest possible standard of dental care available. Our mission is to go beyond the preservation and maintenance concepts of general dentistry; our dentists design each individual treatment plan to provide for an uncompromised clinically functional and esthetic dentition. Pi Dental Center operates all facets of its dental care center with focused team energy for excellence in treatment of the whole patient from cosmetic dental care to tooth implants and more. We strive to provide a level of care that encompasses every dimension of the patient's well being, technologically and in the human arena. No effort is spared to assure that the treatment environment is comfortable, comforting and strictly sterile. Our goal is to inspire the confidence and trust that bring character to an artistically restored, healthy smile.